High Performance Clamps for Sustainable Green Energy
At Oetiker, we promise to put our customers at the center of everything we do. We utilize our 80 years of experience and expertise to provide customers with tailored solutions delivered with confidence by knowledgeable application experts. Here is a great example of how we did just that.
Our customer, who is a leader in renewable energy, delivers safe and clean energy storage solutions to the world. They are the providers of one of the world's smallest and most scalable battery storage systems for green energy.
A rubber hose in their solar-powered battery cooling application was facing UV degradation. This degradation was causing the application to not function to its optimum level, prompting the customer to change the material of the hose from rubber to FEP. This hose material change required a new type of clamp that would meet specific requirements and improve the durability and efficiency of the application.
The customer had several requirements for this new clamp solution. They wanted a proven product which would be compatible with the new FEP hose and its dimensions. In addition, they needed a highly durable clamp that was serviceable and could be reused. After the customer provided the application dimensions and requirements, Oetiker experts provided the appropriate clamp samples within the customer's very short lead-time request.
After carefully reviewing the customer's requirements, our application experts chose the Reusable Low Profile Clamps 268. This clamp was the best option for this application because it offers:
Easy installation with readily available tools
High durability with stainless steel construction
Easy packaging in tight spaces
Impressive sealing performance with Oetiker's 360° sealing
Serviceability and reusability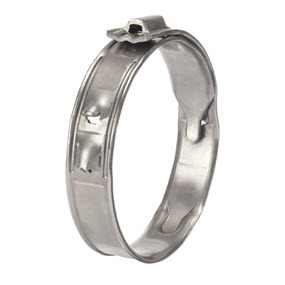 After the selected product passed both the mandatory Pull Force Test and Leak Test, the clamp was implemented onto the customers application. This resulted in increased efficiency compared to the previous configuration. As a result, the customer was pleased with the Peace of Mind that the Oetiker team was able to provide in finding them the right solution for their challenge.
If you would like support in finding the right connecting solution for your application, contact an Oetiker application specialist today.