Connection Verification Aid 133 for Quick Connectors
Featuring QuickSense® technology, the Connection Verification Aid (CVA) provides tube-to-quick connector connection verification in a space- efficient manner to be integrated in final vehicle assembly. The CVA confirms a proper tube-to-quick connector connection via haptic feedback to the operator and an electronic signal to a PLC connected control box, all while being compact and ergonomically designed.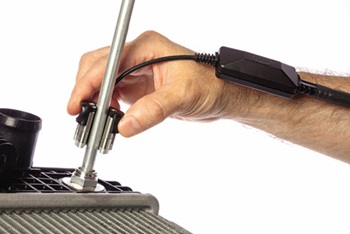 Product Advantages:
Production
- Vibratory haptic provides verified connection feedback to operator
- Device validated for PG 201 / 210 Oetiker quick connectors
- Low application force
- Ease of use
- Can communicate with PLC interface
Quality
- Reliable and secure connection guarantee
- Attributes to FMEA risk reduction
- Eliminates secondary verification operations
- Recordability (warranty and traceability)
Click
here
for information on Connection Verification Aid for Quick Connectors.