Oetiker Partners with German Machinery Manufacturer
To provide optimum service and solutions to our customers in every production scenario, Oetiker has partnered with Riester Machinery. Riester is a German manufacturer well known for its accurate, qualitative and innovative machines. This cooperation ensures that Oetiker multi crimp rings (MCR) are easily assembled and integrated into mass production lines.
The automated 8-segment radial press (MCR-Series) supports the proper assembly and integration of Oetiker multi crimp rings into any production line. The tool has eight straight or overlapping interchangeable segments to ensure correct crimping. Diameter can be easily changed by replacing the tool segments.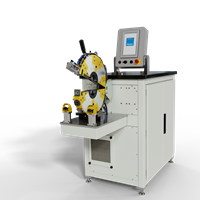 Using Oetiker MCRs combined with Riester machinery gives you the peace of mind that your products are reliably connected
Ideal for the following applications: Driveshaft, Thermal Management and Occupant Safety