Oetiker Expertainer Box - Aftermarket Solutions at hand
Oetiker – global manufacturer of OEM connecting solutions.
Oetiker is a global leader in reliable connecting and assembly solutions for vehicle manufacturers and suppliers around the world. Our expertise in high-quality clamps, rings, straps and quick connectors ranges from powertrain and drivetrain applications to medical applications.
We deliver OEM quality in all of our Aftermarket hose clamps and quick connects for fluid line connection needs in both passenger and commercial vehicles. With billions of connections in service, our connecting solutions are the OEM's choice and can be found on over 20 different vehicle brands.

OEM quality throughout the vehicle's lifetime.
Original equipment ensures high-quality connections, year after year. When components need to be replaced, it is no secret that original equipment provides the highest quality and can, in turn, prolong the vehicle life. Oetiker offers original connecting technology specifically designed for the wide range of vehicle components within the aftermarket business.

The Oetiker Expertainer. Aftermarket solutions at hand.
The Oetiker Expertainer kit offers a range of high-quality and easy-to-use clamps that are specially selected for: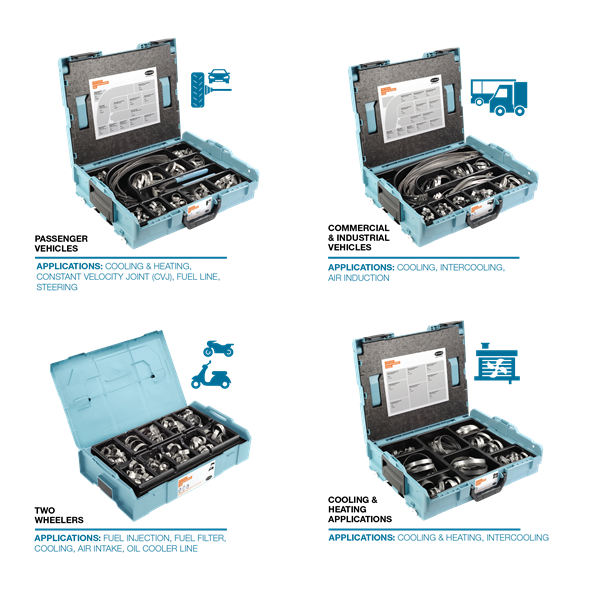 Reliable connections for more customer satisfaction.
Our selection of products bring Oetiker engineering quality and expertise directly to service and repair shops.
The benefits are:
• Reliable product performance to reduce warranty claims and returns
• OEM design to meet all OE requirements
• Quick and easy installation to save time

Are you interested in the new Oetiker Expertainer kit?
Now available in Europe!
Become a distributor with us!
Contact our Oetiker Expertainer team to get to know detailed information: expertainer@oetiker.com